FAQ
Jump to navigation
Jump to search
This page aims to fulfill the common questions asked by newbies, as well as to outline basic troubleshooting steps. For more in-depth problems, visit problem solving.
How do I get the music files off my iPod?
LifeHacker.com currently offers a straightforward guide that does not require any external software (asides from iTunes). It has been quoted below:
1) Connect the iPod to your PC. If iTunes starts syncing (ie erasing) your music automatically, hit the X in the upper right hand corner of iTunes display, to the left of the search box, to stop it.

2) In Control Panel, Portable Media Devices, double-click your iPod.

3) In the Tools menu -> Options, in the View Tab, check "Show hidden files and folders."

4) Navigate to the Music folder. On my 2nd gen 'pod, the full path is

5) Portable Media Devices\[iPod name] (Drive letter)\iPod_Control\Music

6) Select all the music folders, and drag and drop them into a folder on your hard drive, or directly into iTunes.
Source: https://lifehacker.com/how-to-copy-songs-from-your-ipod-to-your-pc-105256
You can also use programs such as Senuti (Mac), gtkpod (Linux), or iRip 2 (Mac) to do this task. Feel free to add any programs you know of here! You can also visit the software page.
How do I enter disk mode?
If you want to browse the files on your iPod, you will have to activate disk mode on your iPod. Disk mode allows you to use your iPod as a storage device and view the file structure of the iPod.
First, open iTunes and connect your iPod
Open the device summary page and scroll down to options.
Click "Enable Disk Mode"
Now, you can view the files as if your iPod was a storage device.
Note: When Disk Mode is enabled, you must eject your device before unplugging it from your computer. You can eject the storage device or eject the iPod in iTunes to safely disconnect the iPod.
Alternatively, if you want to access files on your iPod without entering disk mode, you can select the "Enable disk use" option in iTunes, if available.
My iPod has locked up/is frozen, and won't respond to anything. What do I do?
Sometimes an iPod can freeze up and stop accepting input. When this happens, you can do a force restart on the iPod. Also make sure that your iPod's hold switch (if it has one) is turned off.
For iPod 4th generation, iPod photo, iPod Video, iPod classic, and iPod mini:
Press and hold the center and menu buttons for 6 to 8 seconds or until the screen turns off.
For iPod 3rd generation, iPod 2nd generation, and iPod 1st generation:
Move the hold switch into the on position, then back into the off positon
Press and hold the menu and play/pause button for 6 to 10 seconds
For iPod Shuffle:
Slide the power switch to the off position
Wait 10 seconds
Slide the power switch to the on position
For iPod nano 7th generation:
Press and hold the Sleep/Wake and Home buttons until the iPod restarts
For iPod nano 6th generation:
Press and hold the Sleep/Wake and Volume Down for about 8 seconds.
For iPod Nano 1st generation through 5th generation:
Press and hold the menu and center buttons for about 6-8 seconds or until the screen turns off.
For iPod touch models:
Press and hold the menu and power button until the device turns off and the apple logo re-appears on startup.

Source: https://www.lifewire.com/reset-restart-ipod-all-generations-1999140?
How do I install Rockbox?
Rockbox is an alternative operating system for a variety of music players (including many iPods). To install Rockbox on your iPod, it is highly recommended that you use the graphical interface provided by Rockbox Utility. There are many guides out there, and three different guides are below:
How do I enter diagnostics mode?
Diagnostics Mode allows you to run a variety of test on your iPod. This is most often used for testing the health of the hard drive.
There are different steps for activating Diagnostics Mode on every iPod. Follow these steps after restarting your iPod:
For iPod 1G to 3G:
Hold "Menu" and "Play/Pause" for 10 seconds.
For All Clickwheel iPods (iPod 4G - Classic 7th, Nano 1-5th, Mini):
Hold previous track and the Center button for 10 seconds.
To Exit Diagnostics mode, go to the Reset option in the main menu or just do a force restart.
Sources: http://www.co-bw.com/DMS_iPod_diagnostic_mode.htm
https://web.archive.org/web/20080720124023/http://www.methodshop.com/gadgets/ipodsupport/restart/index.shtml
I want to put videos on my iPod, but iTunes says it's not compatible. How do I convert it?
There are two methods to do this, the one shown below will be using iTunes. DRM-protected movies will not work with either method.
The iTunes method is the same on Windows and macOS.
Go to the Movies tab and drag and drop your video file(s) there. A new section called "Home Videos" should appear, if not present.
Select the video(s). Click on File > Convert > Create iPod or iPhone version.
Once done, simply drag them to your iPod (the drop down menu with your iPod's name on it, NOT the icon). It will also appear in the Home Videos section of the Videos menu.
How do I check the health of my iPod's drive?
Enter diagnostics mode on your iPod, using the guide shown above. Once in diagnostics mode, do the following: (This guide is currently only for colour screen full-size iPods, mono screen guide will be added later)
Click menu to enter manual test. You can now either use the prev/next track buttons or the clickwheel to navigate.
Navigate to I/O > HardDrive > HDSmartData. Wait for the results to show up.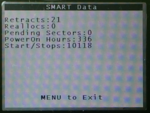 What you're really looking for Reallocs (bad sectors that have been reallocated to other sectors) and Pending Sectors (sectors pending reallocation). The best is of course when both are zero - e.g. small numbers like 2 pending sectors doesn't mean the drive is completely dead - although it does mean the drive is now working with limited time left, and it's probably best to replace it.
Assorted Guides
Below are a collection of pages that can help assist you in doing less common things:
Further Reading
Everymac.com offers a great FAQ page for those having iPod issues. Link: https://everymac.com/systems/apple/ipod/ipod-troubleshooting-repair-faq/