iPod nano (6th generation)
Jump to navigation
Jump to search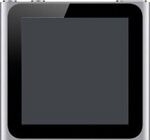 The iPod nano 6th generation is known for it's square shape that broke away from the classic nano candy bar form factor. It was the first iPod nano to offer a touchscreen as opposed to a Click Wheel. This generation of nano removed video playback and removed the camera from the past generation. It was popular to pair this iPod with a 3rd party watch band and wear it like a digital watch. It is viewed as a spiritual precursor to the Apple Watch.
Information
Release Date: September 1, 2010
Processor: Unknown
Audio Processor: Cirrus Logic CLI1544C0
RAM: 64MB
Storage: Flash Storage
Battery: 105Mah
ARBL: 24 Hours of Music
Interface: 30 pin dock connector (USB Charge/Sync)
Models
Capacity
8GB
16GB
RRP (USD)
$149
$179
Key Features
This iPod made a number of changes compared to the previous generation. The design was reworked to be almost identical to the 4th generation iPod Shuffle, with the media controls replaced by a 1.54" IPS 240x240 display. This makes the iPod Nano 6th generation the most compact iPod Nano model. To achieve this smaller size, many key features were removed or reworked. The UI was now touch based, with a homescreen design reminiscent of iOS 5, with Steve Jobs going so far as to say the iPod was running iOS (even if this particular OS was a reworked version of iPod OS from other iPods). The layout of applications was very similar to the 5th gen iPod Nano however, with navigation simply replaced by touch. Dedicated volume control keys were added to the Nano, as this functionality was traditionally achieved using the ClickWheel.
The Camera and Microphone were removed, with Voice Memo support only possible using a headset. Video support was removed entirely due to the smaller screen. Mono audio support was also added for the first time. The accelerometer was also removed, replaced instead by a 2 finger gesture to rotate the screen between 4 different orientations (up, down, left, right). The FM Radio tuner remained on this generation as well.
The battery capacity was also reduced to under a 3rd of the 5th gen Nano's size, going from 350Mah to 105Mah. However, due to more power efficient components, and the removal of the always on reflective screen, audio playback time remained the same. This was also the first iPod with the ability to officially power off the unit by holding down the power button (introduced in update 1.1). Previous models could only be put to sleep by holding the Play/Pause button.
This was also the last iPod Nano released to feature the 30Pin connector, the the only model to feature full screen album art (as the screen matched the aspect ratio of album art, allowing it to take up the entire screen with no cropping)