iPod nano (7th generation)
Jump to navigation
Jump to search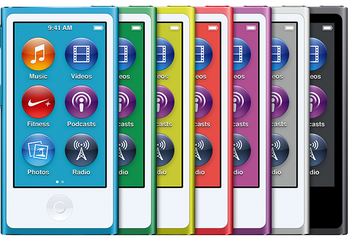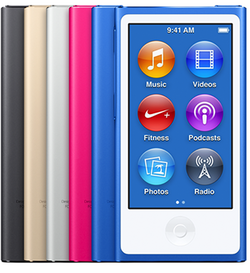 The 7th generation was the final generation of the iPod nano line. This generation was a return to the Candy Bar form factor, but the touchscreen functionality from the past 6th gen was carried over. This along with the 6th generation are the only iPod nanos to not have Click Wheels. This iPod once again brought video playback back to the nano line after its exclusion in the 6th gen. The 7th gen also brought Bluetooth functionality, which was lacking in every other iPod before it (with the exception of the iPod Touch). It also kept radio functionality like the past gens.
This iPod has a unique OS in that it is not iOS, but instead is replicated to look like it is running iOS. Instead, it is running its own custom OS.
The iPod nano 7th Gen had a revision in 2015. This included more updated device support, and a new color lineup (OS X 10.6, Windows XP and Windows Vista devices do not support the 2015 revision).
Information
Release Date: September 12, 2012, July 15, 2015
Processor: Samsung ARM
RAM: 64MB
Storage: 16GB
Battery: 220mAh rechargeable Lithium Ion
ARBL: 30 hours of playback
Interface: Lightning Cable
Models
Capacity
16GB
RRP
US$149
Changed compared to previous models
This iPod made a number of revisions to the iPod Nano 6th Generation. The screen was changed from the 1:1 240x240 screen to a more suitable 240x432 screen. This allowed for video playback to be added back to the nano as it was not practical for the iPod Nano 6th gen's screen. Among other changes are the addition of the Lightning Port and Bluetooth, a gyroscope for auto-rotate (was previously on the 4th and 5th gen models, and was removed on the 6th gen), and a homescreen UI that is more reflective of iOS 7 (as iOS 7 was in development at the time, so while the menus remain stylized to match iPod OS / iOS 6, the homescreen icons were reworked to be more reflective of the iOS 7 redesign)
Resources
Everymac's page on the iPod Nano 7th Gen: https://everymac.com/systems/apple/ipod/specs/ipod-nano-7th-generation-7g.html Everymac's page on the iPod Nano 7th Gen (2015 Revision): https://everymac.com/systems/apple/ipod/specs/ipod-nano-7th-generation-7g-2015-specs.html